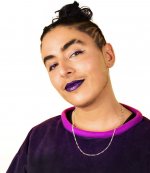 Celebrity Tier Level: 5 (fully verified but less than 100K followers/subscribers on largest social media)
Twitter:
https://twitter.com/pidgejen
Website:
http://pid.ge/
Wikipedia Article:
https://en.wikipedia.org/wiki/Pidgeon_Pagonis
YouTube:
https://www.youtube.com/pidgeonismyname
Official Contact Information: email:
hi@pid.ge
Pidgeon Pagonis is an intersex activist who was initially diagnosed with Androgen Insensitivity Syndrome. Later on, he accessed his medical records and discovered that this diagnosis was incorrect and that he actually had another intersex variation. He graduated from DePaul University with bachelor's and master's degrees in women and gender studies. He joined interACT which advocates for the civil rights of children with intersex traits.
Last edited: